Repents
9.5.14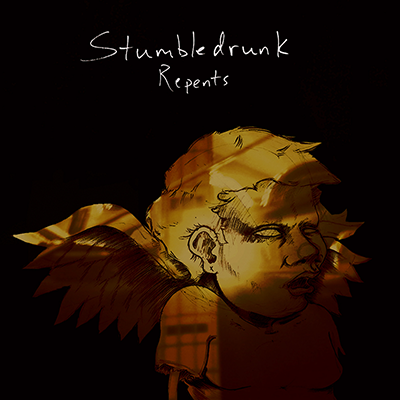 You should listen to our new album:
Repents Album Release Party
8.19.14
Start readying your booze-tummy and soul and ears for our new full-length release's drop-party at HOLE IN THE WALL with Octopus Rex, Tesla Death Ray and Ironhead Division.

FRIDAY SEPTEMBER 5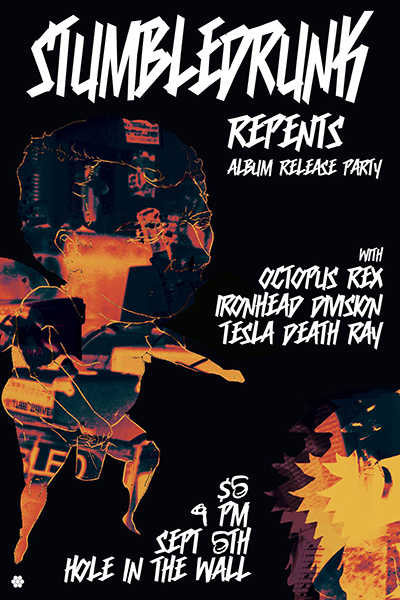 Prepping an all-new set.
Jazzed about it.
Happy Tuesday
10.29.13
Happy Tuesday.
When we started playing together in January 2009, we rehearsed every Monday.
(which is why our debut full-length was called Monday Evenings)
Once we got around the Collusion writing sessions, we switched to Tuesday evenings... which is when we've been meeting pretty consistently since then.
We released Monday Evenings, then Collusion, then the Southern Worship and Graveyardsale EPs in said order.
Our upcoming full-length, Repents, will be next - it's done being tracked and mixed, and is finalizing mastering sessions.
(from there the plan for physical and digital distribution will take a bit of time, we don't like rushing these things and it'll be our first vinyl experience)
In the meanwhile, we urge you to check out our previous releases on Spotify, iTunes, bandcamp, amazon, etc.
2010 - Monday Evenings
2011 - Collusion
2012 - Southern Worship
2013 - Graveyardsale (still free, and the only one that is exclusively on our bandcamp located at wearestumbledrunk.bandcamp.com)
We're going to hopefully give you all at least a few more shows this year.
2013 has without any doubts been our most outrageous and fun year yet, so thank you all for coming out to shows and getting stupid with us.
To many, many, many, more stumblings in our future.
-Carter
Stumblecountry
8.14.13
We had a couple of weeks off from regularly scheduled weekly Stumble rehearsals after playing shows nearly weekly for all of 2013.
(thanks for all the support lately, by the way, we've made a ton of new friends this year)
Now it's back to the grind, but tonight it's just gonna be guitar players and singers...& it sounds like we're going to write a country EP.
The Cuntry EP.
(We don't know if we're joking yet or not.)
In other news we've decided vinyl and digital track listings for our upcoming full length, REPENTS, and hope to be giving you details about a future release date in the next month or two.
Hope everyone has had at least a few stumbly experiences without us.
Shows soon.
GRAVEYARDSALE
3.13.13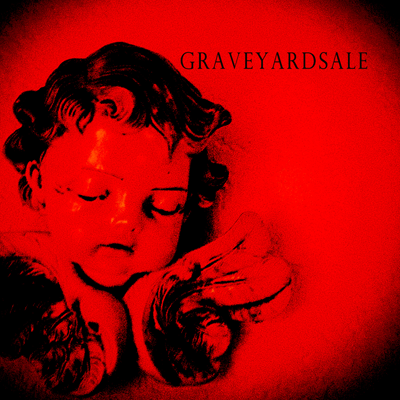 Four more new tracks to appease your ears (before the final set in this psychotic trilogy is recorded). We're offering them for free download for a bit, so grab 'em while you can.
Live at Beerland
1.25.13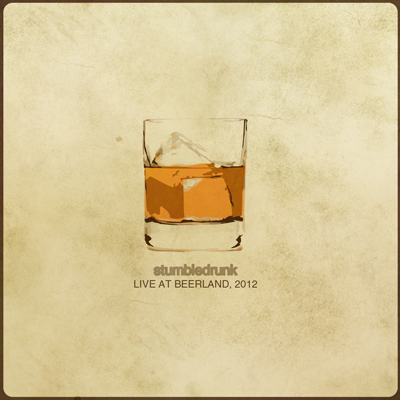 We recently finished recording another set of 4 songs, which will comprise the upcoming "Graveyardsale" EP. But until that comes out, we thought we'd give your ears something tasty. It's a 5-track live bootleg from our show at Beerland on September 20, 2012, mastered by the most excellent TJ Fulfer. 'tis a free download, so get to it.
<3
the drunks
Southern Worship is Here
10.9.12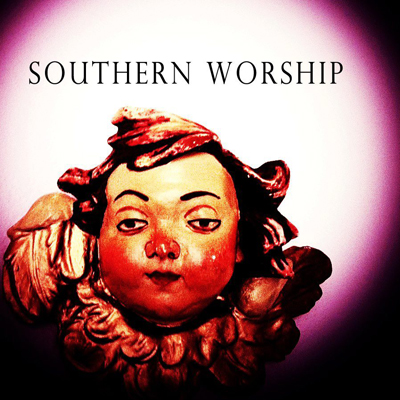 New 4-track EP, available for free on our bandcamp. Click on the pic above if you like loud music.
Southern Worship
7.29.12
We're back to work on another album.
We recorded Shotgun Bible, Psycho Billy, Con Tajin, and Paranoia, Tx this weekend. Our current plan is to release those four songs as the "Southern Worship EP," which will be followed by another four-song EP - and then we'll record four more, put 'em all together, and have a full-length, 12-track album.
We've also got a few shows coming up in the next couple months. Come hang out.
Stumble. Drunk. Live, in-studio.
1.30.12
Very exciting announcement:
We will be recording (audio and video) a live in-studio set on Friday, February 10th at Shine Studios.
It will be free.
Your presence is desired.
Do you know where the Scoot Inn is?
It will be literally right across the street from that.
It's sponsored by Shine Studios (obviously), but also by Balcones Distillery, who will be providing the sweetest of nectars to those of you that are lovely enough to join us.
Show up at 9pm to start consuming, because the place might be full and you might not get in if you wait 'til the music starts at 10. You can RSVP via Facebook HERE.
Come get drunk with StumbleDrunk.
Sketchy People
12.18.11
We made another video.

It's our first off of Collusion, which you can still download for free at wearestumbledrunk.bandcamp.com
Happy Holidaze, homies!
Collusion. Out today. For free.
9.9.11
We made some loud noises, and we really want you to hear them.

Visit wearestumbledrunk.bandcamp.com to stream or download Collusion for free.
And click HERE for a review of Collusion, if you're into those sorts of things.
STUMBLE HARd
Collusion Update
8.24.11
On 9-9-2011, we're releasing Collusion. It's a five-song onslaught that clocks in under 10 minutes, because any more might make you puke.
It'll be available on our bandcamp - HERE.
Until then, MuzikDiscovery is graciously (and exclusively) streaming the first track off the EP, "Still Wasted," on their website - HERE.
Much <3,
StumbleDrunk
Drunken Summer
7.21.11
Sorry we've been stumbling without you!
We've been busy writing a new record for the past couple months.
After playing a couple house parties and recording our new EP, we're ready to play two killer shows in a row.
Friday the 22nd - at Trophys with Cattle Drums and The Stampede
Monday the 25th - Antone's - to compete and get judged by The Toadies
Can you come to both?
Each is $5.
Rock always wins.
Yours in life and stumble,
StumbleDrunk
Hi
3.3.11
Thanks for checking out our ONLINE PRESENCE.
We have a magical link that allows you to listen to our entire debut album for free.
wearestumbledrunk.bandcamp.com
It is gold like the chariots of Rome.
Also, we had a blast the past two months playing some great shows - videos from shows can always be found at youtube.com/stumbledrunk
LAST BUT NOT LEAST.
THE GODS OF ROCK AND ROLL command you to come to Red Eyed Fly on March 14th for a free show at 9:30. And also at Red Table Coffee on March 19th.
We will be stomping about during sxsw.
stumble hard.
trig stars.
-stumble
Happy Holidaze, Everyone!
12.25.10
We've officially released Monday Evenings online through digital music distributers such as iTunes, Amazon, and the Zune store, among many others. You can buy it HERE.
We have a show on January 21st with The Suicide Pistols at Emo's. Underoath and Thursday are playing outside. What does that mean? DESTRUCTION
We have another show the next night, which we're headlining.
It's a free acoustic show at Red Eyed Fly.
It's a Posters On Walls Records label showcase!
We'd love to see you there.
Stumble hard this holiday season, and we'll see you in the new year!
-stumble
Monday Evenings Update
10.23.10
In May 2009, we announced that in Fall09 StumbleDrunk would be birthed.
We played our first shows around and out of town. We went ahead and started recording songs…
On 4/20/2010 we released "Happy Holidaze from StumbleDrunk"
We decided that 4 tracks weren't enough, so we went back into the studio…
This then turned into recording a 12-track album entitled, "Monday Evenings".
Things have gotten real…real fast.
We're putting the finishing touches on the artwork, and we are extremely happy with how the album sounds.
It's a big rock and roll record.
We are pondering what our next music video will be…
XOXO
StumbleDrunk


Up All Night Out Now
8.2.10
We just released the video for "Up All Night," from our forthcoming full-length Monday Evenings. We're pretty stoked about how it turned out. The single is available on iTunes, and the rest of the album will be out this fall.
You can watch the video over in the media section, or check it out on YouTube.
Up All Night Teaser
6.28.10
Here's a little clip from our upcoming single - enjoy!
Happy Holidaze Out Today!!!
4.20.10
Download it for FREE at:
http://tinyurl.com/downloadstumbledrunk
LOTS OF NEW STUFF!!
4.7.10
Hey friends, lovers, excuses, alibis, cohorts, PICs, and fellow-stumblers.
WE HAVE LOTS OF NEW STUFF FOR YOU TO CHECK OUT!!

so to recap:
WE ARE CALLED STUMBLEDRUNK
we are
Carter
Derek
Tucker
Wayne
Josh
we write songs.
we play shows.
we make videos.
have you seen our latest videos?
www.youtube.com/stumbledrunk - check out all the 'STUMBLECLIPS'
SO WHAT COMES NEXT?!?!
4/20
"Happy Holidaze from StumbleDrunk"
free 4-track EP
includes songs from upcoming full length, "Monday Evenings"
1. Highways
2.Hotels
3.Everything is OK
4.Shove
ENJOY LIFE!
STUMBLEDRUNK
STUMBLE HARD
WHAT ARE YOU TALKING ABOUT!?
3.10.10
We are called stumbledrunk.
We have been having a good 2010.
We are going to play a giant sexy bloodbath show on March 26th.
THATS TUCKER'S 21st BIRTHDAY!
OMG!
OH
EM
GEE.
Yes.
Please come out to see Tucker on his birthday! He only turns 21 once, and I'm so proud of him for still being alive!
We go into the studio this weekend.
Look for lots of video and tweets and pics and love coming from Shine this weekend.
endless love and peace and rock and roll
-C
ya heard?
1.30.10
StumbleDrunk will be releasing our first EP in the near future, engineered at the great Shine Studios. Shine Studios has been home to other Posters on Walls projects such as "The Scotland Yard Sale" and "Again, For The Win." Each band has had enormous success there, and we expect no less.
We. Are. Stoked.
Also, happy birthdaze congratulations are in order for our hardcore growler /drummer Wayne Zingery AND "Again, For The Win" seducer/ drummer Travis Malone. They have now roamed the earth for an astounding 21 years. No one thought Wayne would make it this far, yet against all odds, he remains mostly intact.
Speaking of birthdaze, did you know our very own sexualizer/ guitar destroyer Tucker Francis has one coming up on March 26? Why is that so significant? We have a show that night at Red Eyed Fly. That's right; his 21st birthday coincides with a Friday show. You KNOW things will be insane that night. There's a good chance Tucker won't survive the experience.
And back by popular demand, we will have more shirts at our upcoming shows! Maybe even new ones declaring just how much you love to give yourself over to the rocking ways of StumbleDrunk.
Hope y'all are having as much joy and general pleasure in your lives as we are! Until next time, keep stumblin'.
-DRock
this is the kickoff of wearestumbledrunk.com
12.21.09
Howdy
Welcome to the brand-spanking new site! We created it for all of your vast StumbleDrunk needs. This is where you'll find all of the late-breaking StumbleNews, straight from the source.
We'll post important information about the band (such as our favorite snacks) or let you know when we do cool stuff (like win our first show ever at the "Battle of the Bands" at Momo's...true story). So stay tuned for further updates.
We hope to see YOU at our upcoming shows. And be on the lookout for an album creeping around the corner this year...
With Love,
DWreck